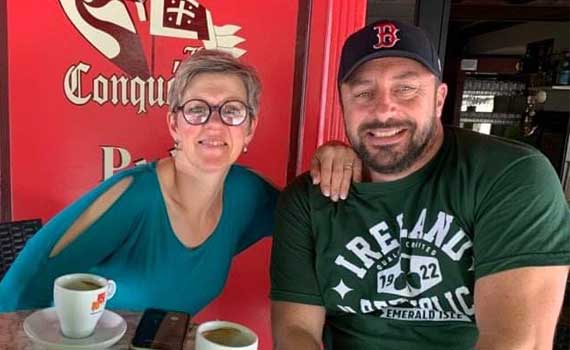 Géraldine and David
welcome you
From Tuesday to Saturday
4:00 p.m. to 1:00 a.m.
Catering from 4:00 p.m. to 11:00 p.m.
from April to September
Establishment closed on Sundays, Mondays and public holidays
Pub Snack

Le Conquérant
Ideally located in the city center of Bayeux, 4 minutes from the cathedral and facing the tapestry museum, David & Géraldine invite their customers to enjoy, over a drink or a meal, a friendly and warm, with family, friends, work colleagues, or visitors of all stripes.
The dining room in old stones and woodwork, offers a universe of Irish influence.

In a quiet, one-way street, Le Conquérant invites you to sit around a table on the terrace or in the dining room. To refresh themselves, a large selection of drinks and specialties are offered to customers: draft beers, ciders and wines, spirits, cocktails. Coffees, teas, fruit juices and sodas are also on the menu.

The brasserie works in partnership with local producers. Craft beers and Norman ciders are available for purchase and for sale to take away. For those in a hurry, our chef prepares in the kitchen, sandwiches, hamburgers and toasts, trays of fries. For a sweet break, ice cream, pancakes and waffles are served with chocolate and whipped cream, jams, or speculoos.

During the evenings of major football or rugby matches, for example, the bar welcomes its customers to support their team in a real atmosphere of celebration and sharing. Benefiting from a large canvas screen, the pub broadcasts and allows you to follow live sporting events.

To make it easier for you to park your car, the establishment invites you to park your vehicle in the Michel d'Ornano park. Although paying during the day, it remains free from 8:00 p.m. to 8:00 a.m., and is located a 3-minute walk from the brasserie.